Roll over image to zoom in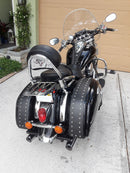 Description
These Hot Deals are provided 'as is' with no additional customization available.
Black Saddlebag Chaps with studs
Suitable for the following bikes: Kawasaki Nomad 1500, 1600, or Vaquero 1700

Regular Price $215
Payment & Security
Your payment information is processed securely. We do not store credit card details nor have access to your credit card information.